HOMEMADE THANKSGIVING STUFFING
Homemade Thanksgiving Stuffing anyone? We're counting down until we can stuff our bellies silly.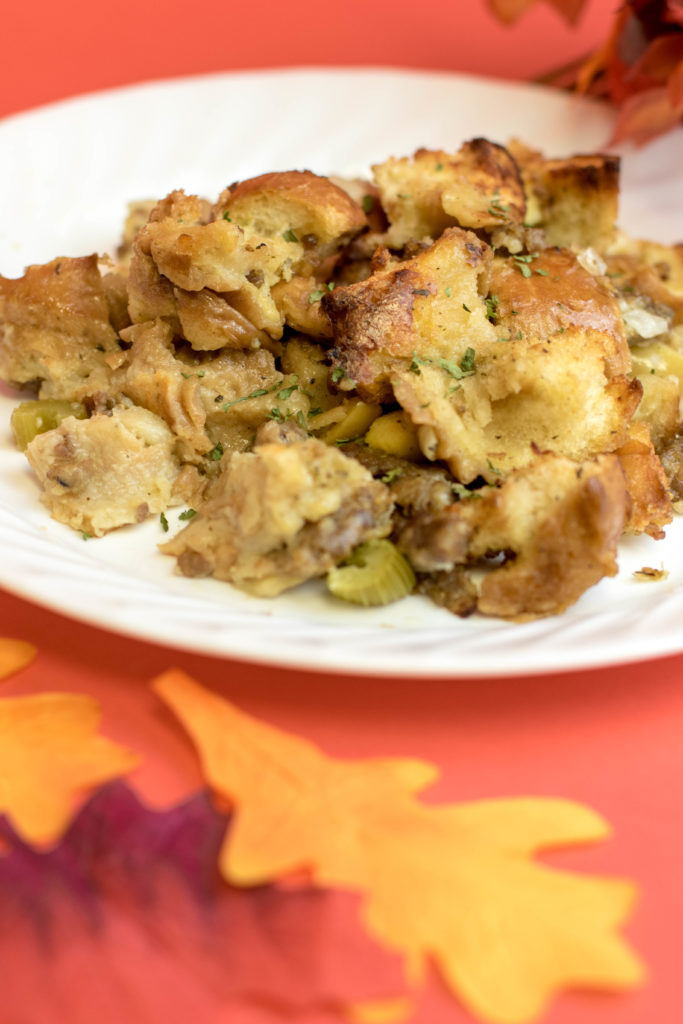 Homemade Thanksgiving Stuffing
INGREDIENTS:
– 1 medium yellow onion, diced
– 4 celery stalks, diced
– 2 small apples, peeled and diced
– 4 oz. Producers Butter
– Salt and pepper to taste
– 1 tsp. dried sage
– 1 tsp. dried thyme
– 2 1/2 cups chicken stock
– 1 pound sweet Italian sausage
– 2 eggs beaten
– 1 cup grated parmesan cheese
– 8 cups dried French bread cubes
INSTRUCTIONS:
– Spray a 9×13-inch baking dish with cooking spray and set aside. Preheat your oven to 375 degrees. (Unless preparing the day before.)
– Melt the Producers Butter in a large frying pan. Add the onions, celery, and apples to the butter and season with salt and pepper. Sauté until the celery and onion are translucent.
– Mix in sage and thyme. Remove from the heat.
– In a separate pan, cook the sausage, breaking it up until no longer pink. Remove from the heat.
– In a large bowl, coat the bread with the eggs. Mix in both the meat and the veggie butter mixture. Then mix in the cheese.
– Pour in the stuffing mixture into the pan, then pour the chicken stock over it.
– Cover the dish with aluminum foil and bake for 30 minutes. Remove the foil and continue baking for 25 to 30 minutes longer.
– Serve!