EDIBLE COOKIE DOUGH SANDWICHES
Nothing motivates us more on these hot summer days than Edible Cookie Dough Sandwiches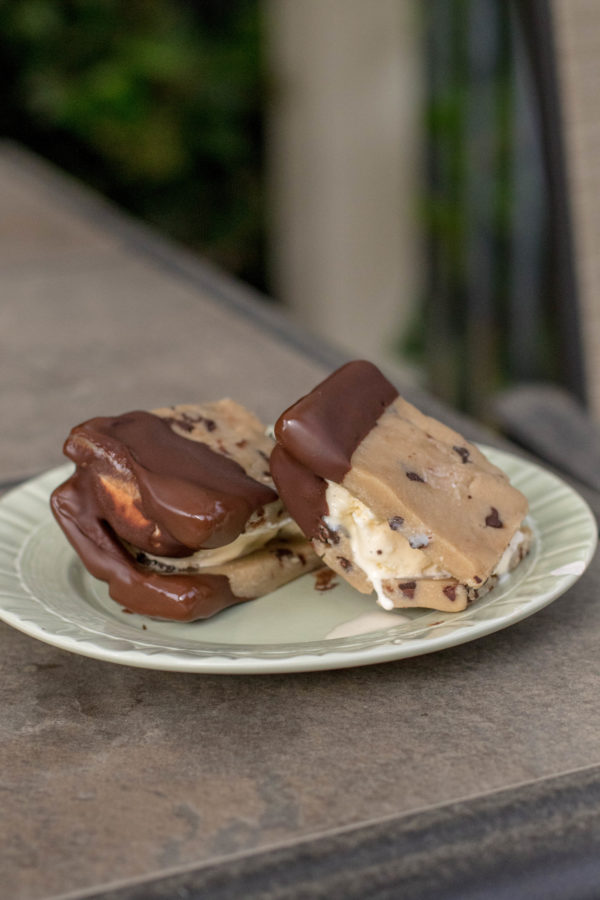 Edible Cookie Dough Sandwiches
Ingredients:
– 3/4 cup White All-Purpose Flour
– 1/3 cup Producers Butter
– 1/3 cup brown sugar
– 3 tbsps. white granulated sugar
– 1 tsp. pure vanilla extract
– 1 tbsp. Producers Milk
– 1/3 cup mini chocolate chips
– Producers Vanilla Ice Cream
– 2 cups chocolate chips
Instructions:
– Preheat oven to 350 degrees F and spread the flour onto a baking sheet in an even layer.
– Toast the flour in the oven for 5-7 minutes (avoid burning), and remove and let completely cool.
– Melt the butter and set aside for cooling, room temperature.
– In a medium-size bowl, add the butter, brown sugar, and white sugar and mix together until smooth.
– Add vanilla, milk, and stir until combined. Then stir in flour and chocolate chips until combined.
– Roll out dough into a square, and trim sides to have an even look. Chill for 30 minutes.
– Cut the dough into about 6 rectangles, and place a scoop of ice cream on one rectangle. Place another rectangle on top and push gently to flatten ice cream.
– Once the sandwich is made, wrap in foil and freeze for an hour before dipping into melted chocolate.
– Melt the chocolate on the stove, and dip half of the sandwich into the chocolate. Let sit until chocolate has set.
– SERVE!