BAKED BUFFALO CHICKEN FINGERS
Whether it's dinner for the family or a fun appetizer for a dinner party, these chicken fingers bring some spice to the table.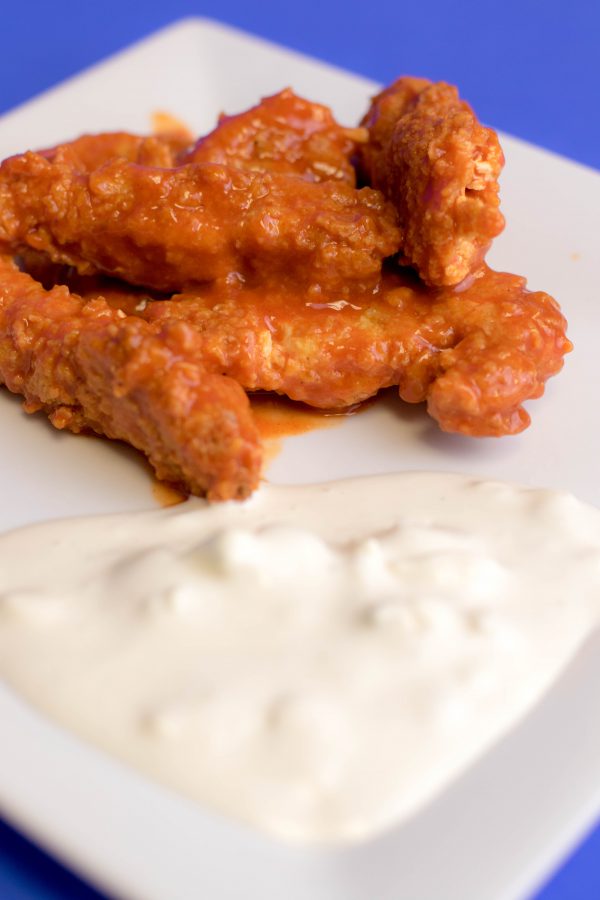 Baked Buffalo Chicken Fingers
Ingredients
Chicken Fingers
– 1 1/2 skinless, boneless chicken breasts or tenders
– 5 cups corn flakes cereal
– 1/2 tsp. salt
– 1/2 tsp. ground black pepper
– 1/2 tsp. garlic powder
– 1/2 tsp. smoked paprika
– 1 cup all-purpose flour
– 2 Producers Eggs
– 1/4 cup Producers Milk
– 1 cup buffalo sauce
Blue Cheese Dipping Sauce
– 1/2 cup mayonnaise
– 1/2 cup Producers Natural Sour Cream
– 2 tsp. Producers Milk
– 1 tsp. Worcestershire sauce
– 2/3 cup blue cheese crumbles
Instructions
– If using chicken breasts pond downed cut into strips
– Preheat oven to 400 degrees F, and line a large baking sheet with parchment paper so the wings don't stick.
– Put the corn flakes, salt, pepper, garlic powder, and smoked paprika into a food processor and pulse 4-5 times. Make sure the cereal is not completely crushed.
– Coat each chicken strip in flour, shaking off any excess. Then, dip in the egg mixture and then into the corn flake mixture. Place them onto a baking sheet.
– Bake for 10 minutes. Turn each piece over and continue baking until the outside is crisp and the centers are cooked through for another 10 minutes. If you want them crispier cook for longer until desired texture.
– Allow to cool for 5 minutes, and then make the dipping sauce.
– Sauce: Stir all ingredients in a small bowl and serve.