Need the perfect recipe for the morning? We have the best recipe for the whole family…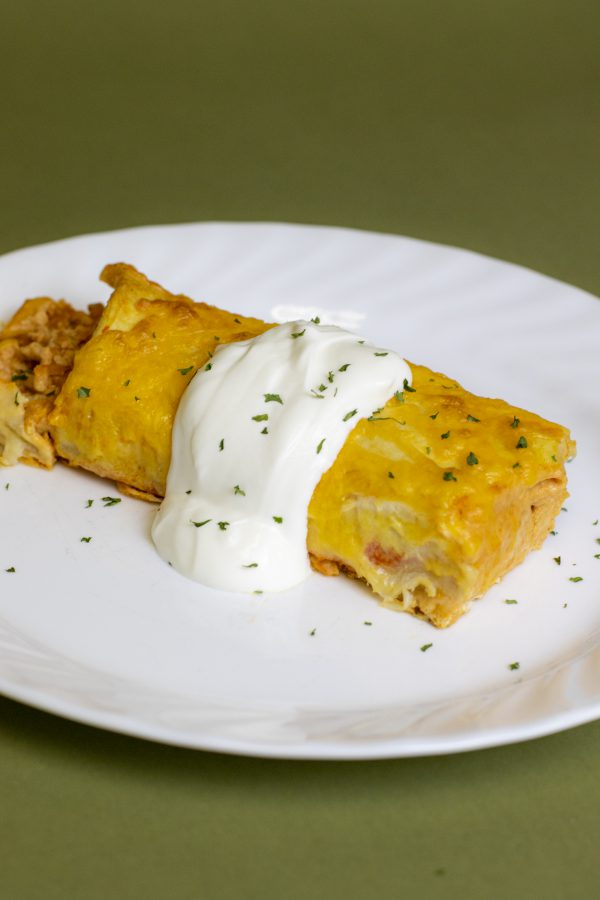 Breakfast Enchilada
Ingredients
ENCHILADAS:
– 2 Cups frozen Shredded Hash Brown Potatoes
– 2 Cups shredded cheddar cheese
– 1 pound bacon chopped, cooked, and drained
– 16- ounce can pinto beans drained
– 2 4- ounce cans chopped green chilies
– 8 8-inch flour tortillas
EGG MIXTURE:
– 1 Cup Producers Half & Half
– 10 oz can red enchilada sauce
– 6 Producers Eggs
– 1 teaspoon salt
– ½ teaspoon black pepper
TOPPING:
– ½ cup shredded cheddar cheese
– Producers Sour Cream
Instructions
PREPARE ENCHILADA FILLING:
– In a large bowl stir to combine frozen hash browns, cheese, cooked bacon, pinto beans, and green chilies.
– Spray a 9×13-inch pan with non-stick cooking spray.
ASSEMBLE ENCHILADAS:
– Place about ½-cup of filling evenly in the middle of the tortilla. Roll up tortilla and place seam-side down in the prepared pan. Repeat with the remaining tortillas and filling.
MAKE EGG MIXTURE:
– Whisk together half-and-half, enchilada sauce, eggs, salt and pepper in a large measuring cup or medium bowl. Slowly pour mixture over rolled tortillas. Spray foil with nonstick cooking spray, and cover with foil. Chill overnight in the refrigerator, at least 8 hours.
BAKE ENCHILADAS:
– Preheat oven to 375 degrees F. Bake, covered for 35-40 minutes, or until eggs are set. Uncover enchiladas and sprinkle with ½ cup shredded cheddar cheese. Keep enchiladas uncovered, and return them to the oven. Bake 5-10 minutes, or until the cheese is melted.
TO FINISH:
Let enchiladas cool for 10 minutes, and then top with diced avocado, chopped tomatoes, and green onions. Serve immediately.