Spinach dip in a rich sourdough bread bowl that you don't want your guests to miss out on.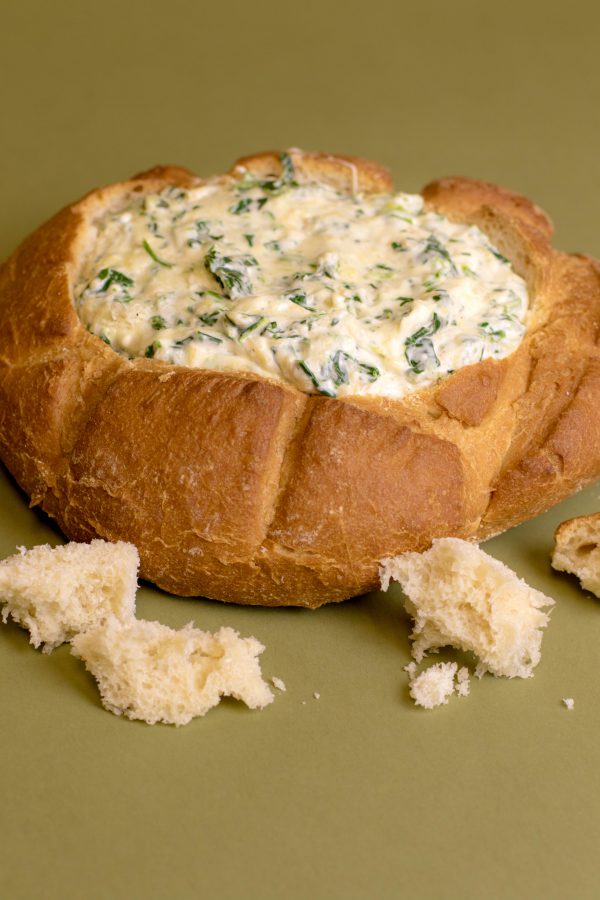 Bread Bowl Spinach Dip
Ingredients:
– 1/2 cup Producers Natural Sour Cream
– 8 oz cream cheese softened
– 10 oz frozen spinach thawed, rinsed, and drained
– 1 cup shredded Monterrey jack cheese
– 1 cup shredded Parmesan cheese
– 1 tbsp dried minced onion
– 1 tbsp garlic minced
– 1 pinch salt to taste
– 1 pinch black pepper to taste
– 1 pinch red pepper flakes to taste
– Sourdough bread for dipping
Instructions:
– Preheat oven to 350 degrees F.
– In a large bowl, blend together Producers Natural Sour Cream and cream cheese until thick and smooth.
– Add spinach, Monterey jack cheese, Parmesan cheese, dried chopped onion, garlic, salt, black pepper, and red pepper flakes to bowl, then stir until thoroughly combined.
– Transfer spinach dip to a small baking dish and smooth it out to an even layer.
– Bake spinach dip for 10 minutes or until hot and cheese is melted.
– Serve spinach dip immediately with cut french bread for dipping.